Something incredibly cool happened to me this past week. No,I didn't suddenly lose all the gravity in my apartment again and No, It didn't involve unicorns or mermaids.
It was actually something a little cooler than that.
I know, hard to top unicorns and mermaids BUT it is possible. This week I received an award from Olay and Artworks for a contest called Light as Air, in celebration of Olay's new product Whips.
The objective was for women (identifying) artists to develop public art activations inspired by the Whips product and the complementary theme "Light as Air"

Before I tell you all about the night and how cool it was to be there and participate in the evenings events, I want to tell you about the process of what I did to get there... the whole process.
My Idea was was to have a girl floating in a bubble floating down the Cincinnati at sunset. She would be wearing clothing that was very lite in nature and I wanted her to look like she was glowing with a very curious happy look on her face. - I actually wrote a 500 word example of this and I'm sure it was a much better description but this is the summery of it :)

Step 1 of this process was to take photos of the city and I chose the best time of day to take them in. RUSH HOUR! To get the angel I wanted meant I needed to run into the middle of the road swoop down and make sure I was getting an angle that was pointing up at the buildings like you were looking up at whoever was in the bubble.
I went through several streets downtown to get what I wanted. I originally wanted to use Vine Street in OTR as I feel like it's really says a lot about where we are going as a city but the buildings were not tall enough to really get the idea across.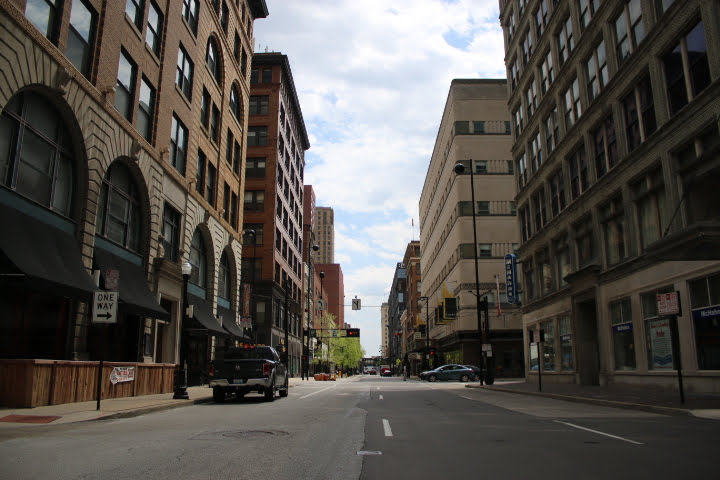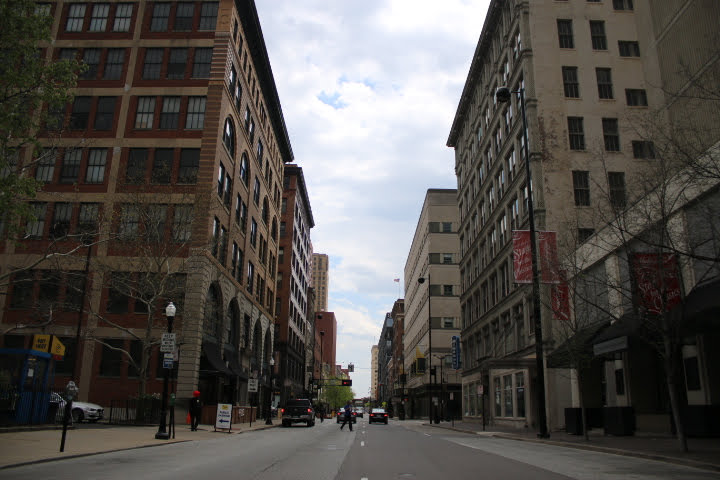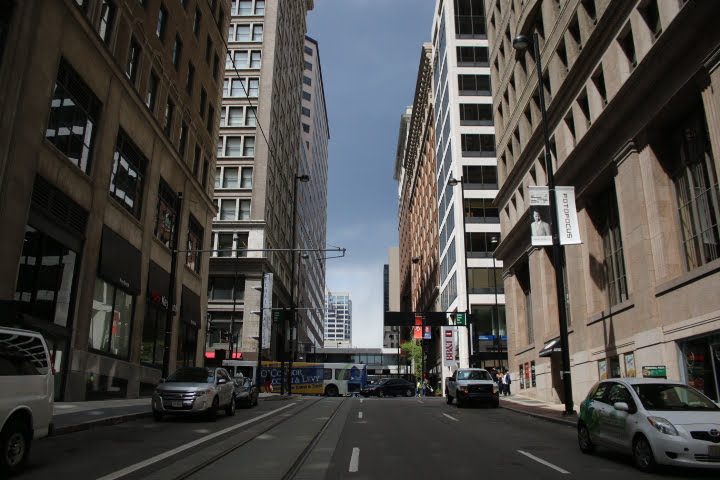 Step 2 was to find my model and I of course asked one of my best friends to do it. You'll actually see her a lot on here. She may be covered in cake, in a fancy dress for her maternity photos or hanging out with polar bears. Either way she's usually down to help with my shenanigans.
This time was the first time we would make her float. We had her in several different angles trying to figure out what would look more natural and ones that didn't look like she was straining to stay in one position.
If you've never tried to be in a levitation photo, they can get pretty hard to do. It's a lot of ab strength and balancing on a small portion of a chair or bucket.... or tree.
Once I had both the images of the city and of April, it was time to make the magic happen.
The image itself actually started out looking VERY different than the final image. I had originally thought a sunset with lots of golden warm hue's was the way I wanted to go. With sun casting warm sun-rays down the busy streets of Cincinnati.
After a couple nights sleep I decided that very vibrant color was a better choice. Even that went through a couple changes and more color was added in for a very vibrant final image.
The whole process of creating this image was so much fun. It allowed me to venture into some things I had not done yet and meet so many amazing people along the way.
This past wednesday was the big nigh for the five of us. We were all a little nervous but excited and really proud of each other for the work we had done. In a room surrounded by our families, friends and amazing people from Artworks and Olay they announced to us that not only will our work be displayed in Cincinnati from June to August, It will also be on Olay.com AND In the December issue of O magazine. (Excuse me while I pick my jaw up off the floor)

I think It can go without me saying how excited and happy I am about all of this but I'm going to say it anyway! OMG O MAGAZINE!
So if you have the chance this summer, please stop by and see all of our work downtown. All the pieces will be on Fountain square and in OTR. Also please visit the other artists on Instagram or their websites. They are all amazing fearless ladies who put some great work out there for all of us to enjoy.
Congratulations Ladies! Here is to big things to come! <3